Register/Login
---
Run List
---
---
---
https://www.rawlsautoauction.com
2818 Pond Branch Rd
Leesville, SC 29070
(803) 657-5111
The First Auto Auction
A great entrepreneurial success story.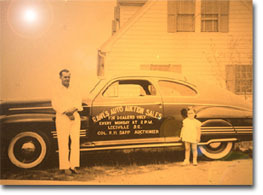 In March of 1938 J.M. Rawls visited a livestock auction in Columbia, South Carolina. Already in the car business, he wondered why cars could not be sold by the same auction method. The idea seemed like a good fit to him, and he gave his idea a try. The result was the beginning of the Auto Auction Industry. The early going was tough, but interest was high, and as the word spread, this first auto auction flourished.
Now located on a forty acre facility, the seven lane auction has come a long way from its humble beginnings in a downtown theater building in Leesville, South Carolina.
Jimmy Rawls, President and Owner of Rawls Auto Auction, states that the history and accomplishments of Rawls Auto Auction are very important, but that as an independent auction in the 21st century, Rawls Auto Auction must excel in customer service by staying on the cutting edge of technology and must continue to be innovative and focused on the needs of the customers.
"I've been involved in the business for over forty years. We have a good sense of where we came from and where we want to be in the future. At Rawls Auto Auction we are constantly trying to improve the quality of our service. We consider this essential to the future growth of our business. We hope that you will visit us soon," says Jimmy.
Registration
Auto dealers across the South have been buying and selling at Rawls Auto Auction since 1938. If you're a new customer(Auto-Dealer) and plan to attend Rawls Auto Auction, please pre-register by calling 803-657-5111x119 to avoid any inconvenience on arrival. We look forward to serving your needs and making Rawls Auto Auction your #1 stop every Tuesday!
To Register Online, Click Here if you are not already registered with Edge Pipeline.
Transportation
Rawls Auto Auction is ready to transport vehicles up to 300 miles radius of our central location in Leesville, SC. For transports beyond a 300 mile radius.Please contact our transportation department for more information.
Transport@rawlsautoauction.com or
Transportation@rawlsautoauction.com