Register/Login
---
Run List
---
---
---
5937 Sandy Hollow Rd
Rockford, IL 61109
(815) 874-7800
"At the Greater Rockford Auto Auction, we are committed to providing the best possible experience for our customers. Whether you are a new customer or have been part of the GRAA family for the past 40+ years, we value your business and will never take it for granted. We strive daily to provide our customers with the highest quality of service, dedicated and top notch staff, and a results driven environment you can come to expect. You can trust that we will do everything we can every day to serve your buying and selling needs. After all, it is our customers that have made and will continue to make GRAA the successful auction that it is. Thank you for taking the time to check us out and I look forward to seeing you next Wednesday!"
Gratefully,
Chad R. Anderson
General Manager
---
Reconditioning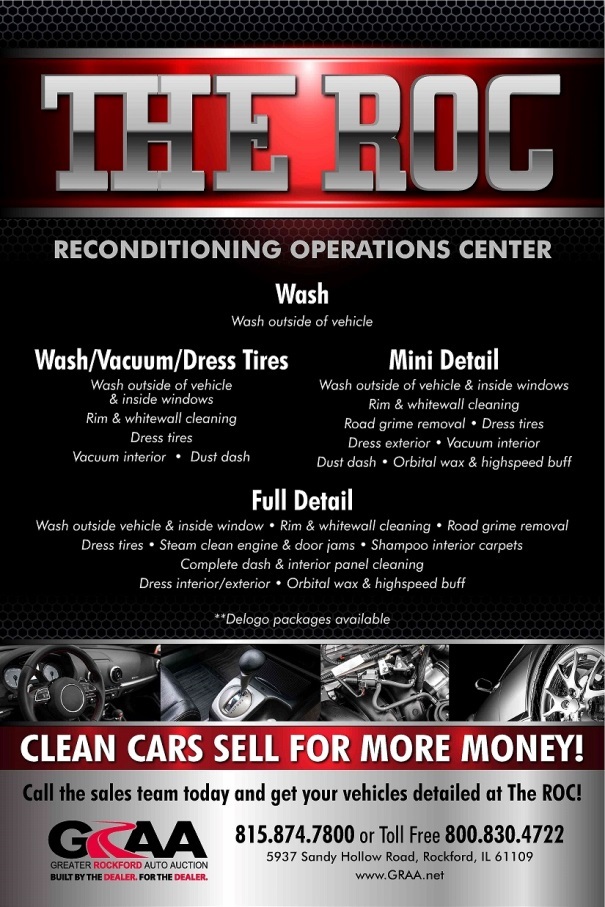 Key Services
Inspections
For Inspections/Certification, Call 800-830-4722



Pre Sale Inspection - GRAA Guaranteed - 7 Day Certification - Certify all your consigned vehicles by our qualified personnel with our 7 day guarantee and watch the value of your vehicle increase.

Pre Sale Inspection information, click here

Post Sale Inspection PSI - Check your purchase for mechanical and/or frame. Post Sale Inspections follow standard GRAA/NAAA arbitration guidelines. Followed with a 7 day guarantee

Post Sale Inspection information, click here

Certification - NAAA Levels of Certification available or the ability to adopt a costumized customer program.
Transportation
Call: 800-830-4722